Book Week Day 2 – an action packed day with Alan Baxter!
I distinctly remember the first time I met Alan Baxter, although I daresay he doesn't. I was at a PLANE conference, 4 years ago, and he presented a session on the importance of storytelling in learning – I posted about it here, the beginning of my fangirling author-stalking journey with him. (I say "with" him metaphorically – it's pretty much been one-sided, and that's ok, I'm pretty sure he doesn't mind. And it's not nearly as restraining-order-worthy as I make it sound, I'm sure.)
This year, I was looking for some different book week events and activities. I really wanted to focus on ways that we could engage some of the students who might not normally sign up for that "nerdy library stuff you're always bangin on about" (Year 9 boy, 2016. Snort.)
So, with the above commentator in mind, I thought about authors I stalked in my everyday non-library life. I contemplated who might impress him and his mates, who considered the library to be a great place to hang out in (#winning!!!) but who had never signed up for any of the activities we run (#boo). And, Alan Baxter sprang to mind.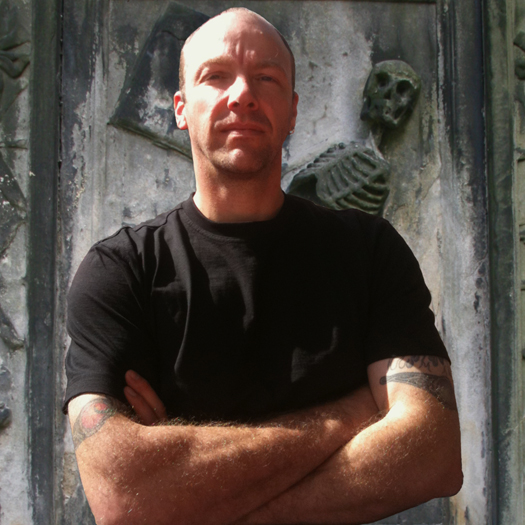 His website describes him as
an award-winning author of dark fantasy, horror and sci-fi and an international master of kung fu. He runs the Illawarra Kung Fu Academy and writes novels, novellas and short stories full of magic, monsters and, quite often, martial arts. He rides a motorcycle and loves his dog.
I mean, how much more bad-arse can you get, right? Look, he even has tattoos!! To be honest, part of the appeal of inviting Alan along was that I knew that his profile would appeal to my Year 9 male critic, I'm not going to deny it. But there's more to it than that. I love Alan's books. He writes fight scenes that make me want to go back to karate, no matter how much I would get my head kicked in because of my lack of peripheral vision. There's a passage in the first book of the Alex Caine series, Bound, that made me salivate – the passion and respect with which he describes a significant book is one of the most stunning passages I've read in a while, and I kept rereading it over and over before I could eventually move on. And his respect for the power of stories just resonates to the core of my being.
I will say this, though. Alan doesn't write for kids. He's not even a YA author. He writes pretty dark, serious stuff. So much so that, when I bought the Alex Caine books for the library, it led to a conversation about age appropriateness which led us to implementing a Senior Fiction borrowing category for those books that might be a little more mature in theme, language and content for some of our younger students. So, why the choice to invite him along to talk to our kids?
Because, Neil Gaiman said so. And, whilst I'm a strong independent woman, I do what Neil says. Ok, not really (not all the time). But I do love what Neil says about censorship and allowing children to read what they want to. Librarians often deal with the murky issue of age appropriateness and censorship – a common question on a teacher librarian mailing list I'm a part of is "what age would X book be appropriate for?" I don't fundamentally disagree with this question, but I'm also not going to limit the exposure my students get to authors who just write "books for teenagers".
So, I flicked Alan a message. I had this idea that perhaps a "write the fight" workshop might be cool. Turns out, it's such a great idea that he totally already does it, but takes that rhyme one step further, so on Day 2 of Book Week 2016, he turned up to teach some kids to "Write the fight right!"
He rocked. The kids responded really well to him. After the workshop, during which he gave some fabulous advice about moving the action forward, and reiterated Maria's advice from the day before about the importance of research (which made my librarian's heart insanely happy!!), he spoke to a group of high school and IEC students. And he pretty much said "ask me stuff." So they did. What followed was almost an hour of kids grilling him about his work, and the kinds of stuff he likes to read. About how he keeps a character alive in his head. And about how he plans out his stories. I was so impressed with them, particularly with the IEC students, who've been in the country and speaking English for only months, but who framed some thoughtful, interesting questions. And I was so impressed with Alan, who took the time to thoughtfully respond to all questions, and who made everyone who interacted with him feel like their ideas mattered.
When I see suggested authors for school visits, Alan's name isn't on that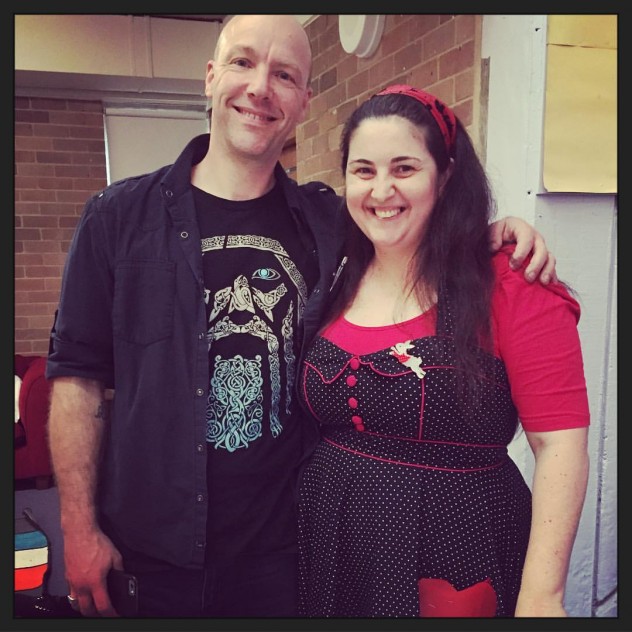 list. He commands the stage at events like Supernova, and has won numerous awards, but isn't usually the first port of call for high schools. Can I suggest though, that if you are looking for someone to work with some students on creative writing, or to talk to some kids about why stories matter? Check him out. Or check out some other authors that may not necessarily be on the list of best selling YA authors, but whose books you've read, and loved. Our students are diverse, and their interests are diverse. They need to see that diversity represented in the literature they read, whether it's diversity in character, or setting, or genre. If nothing else, it's a great opportunity to extend your author stalking – ahem, expose students to some stories that they might not normally consider. And you never know where that's going to take them.