Another pile of picture books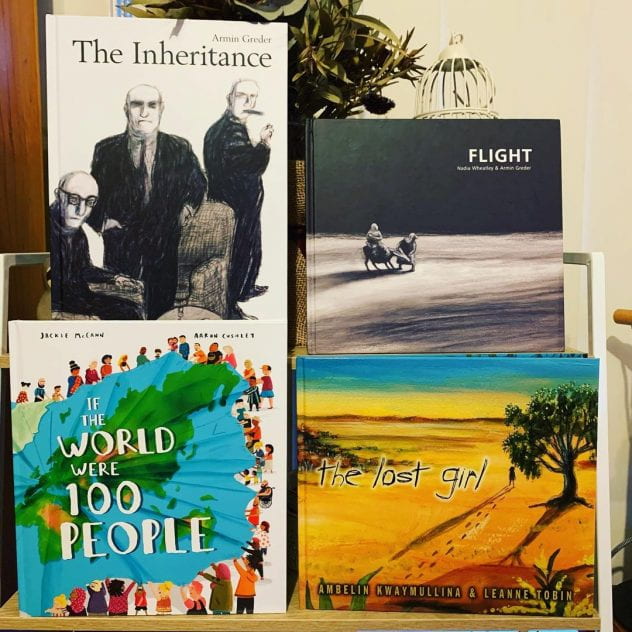 Title: The inheritance
Author: Armin Greder
Genre/ issues: Capitalism. Greed.

Title: Flight
Author: Nadia Wheatley
Illustrator: Armin Greder
Genre/ issues: Refugee journeys.
Title: If the world were 100 people
Author: Jackie McCann
Illustrator: Aaron Cushley
Genre/ issues: World issues.
Title: The lost girl
Author: Ambelin Kwaymullina
Illustrator: Leanne Tobin
Genre/ issues: Aboriginal stories. Connection with the land. Family.
Shop local where you can: For Australian readers, you can find this book on Booktopia, or support your local independent bookstore. US readers, check out Bookshop.org.
Some more picture books- and Armin Greder continues to cement himself as one of the most profoundly thought provoking picture book artists with his new offering, Inheritance. His stark and grim illustrations examine the impact of multinational corporations who are focused on cementing their own financial legacy, rather than demonstrating any awareness of their impact on the world and its future. A bleak and uncompromising view of corporate greed and power.
I unpacked a box the other day, in the hunt for a document, and found Greder's collaboration with Nadia Wheatley, Flight. Examining the journey of a couple and their infant child in search of safety, there are initial allusions to the biblical story of Mary and Joseph following the star, but we then see the horror our refugee characters are fleeing from, and the uncertainty they find themselves in at the end of their flight to freedom – a camp, still yearning for freedom and home. A really powerful picture book.
The whole "let's look at how the world would look if it were just 100 people" isn't a new concept, but my third picture book for the day does a really wonderful job breaking down this metaphor and conveying it in pictographic illustrations with engaging and accessible text. Analysing proportionate data from appearance to lifestyle, education to environment, and access to resources such as housing, food, wealth and water, it'd be a great way to discuss global community with younger readers from Jackie McCann and Aaron Cushley.
And finally, Ambelin Kwaymullina's and Leanne Tobin's The Lost Girl. This was another box find, and its lovely. A young Aboriginal girl gets lost, and until she finds her human family is cared for by her surroundings, her Mother Earth. Rich, vibrant and earthy illustrations support Kwaymullina's heartfelt and delightful narrative. I'm glad I rediscovered this one!
#TamaraReads #2021readingchallenge 108, 112-114/2021
Happy reading,