Education is serious business. It's about moulding and shaping young minds. Imparting wisdom, developing the fundamental skills they are going to need – reading, writing, and 'rithmatic. The struggle of getting though content, meeting outcomes, and managing student behaviour. Test results rule, and it's all about measurable growth. Blah, blah, blah.
I don't necessarily disagree with most of the above, but I don't think it's just limited to that. The role that engagement, true engagement, plays in education is powerful – not just "my students are engaged in the learning in my classroom because they focus on their work all lesson". I think we can learn a lot from gaming in this regard – I've blogged about this before, especially after my experiences at the PLANE Festival of Learning in their Permission to Play strand. I've been a bit obsessed with the idea of play, and what we learn from failure in games, so I've been experimenting this term with a couple of my classes. It's been a lot of fun!!
My year 7 class rock. They are a lot of fun, and we have had some great experiences this year as we've worked through some interesting topics. This term, we've been setting up our faculty iPads, and this class have been our guinea pigs. They've been very patient, and given lots of great feedback about how they could be useful in class. They were all obsessed with installing games though, and who could blame them? It was the first thing I did when I got mine!! So, after a couple of solid weeks of working on puppet pals, and creating a film of the play we have been studying in class, I got them to do a creative writing task. I told them we we doing an empathy task – I'd give them some characters, and they had to write some blog entries for me that fully explored the feeling and emotions of the character they picked. Then, I put this picture on the board.

They thought I was joking. "Nah, really Miss, what are we doing?" When I eventually convinced them that I was serious, though, they got to work. We talked about the back story behind Angry Birds, and the narrative that underpins it. We brainstormed the different points of view that the birds or the pigs might have … Why would the pigs feel the need to steal eggs? What about the little pig who didn't really want to get involved, but was pressured into it? What makes people willing to die for the cause – those birds must know it's not going to end well for them!! There was some wonderful, completely unexpected cross-KLA chat about historical links to kamikaze pilots and Hitler youth, and lots of parallels drawn between the behaviours of the birds and pigs, and peer pressure and bullying behaviours. The diary entries they wrote after this were AMAZING – some powerful, some strongly emotional, and often very very funny … they really got into it, and produced some sustained significant pieces of creative writing!
This wasn't the real fun though. The real fun was the lesson that followed this insanely cool creative writing task. We had an Angry Birds challenge. 16 iPads, 28 students, and an hour long frenzy to see who could get the highest score on a level of Angry Birds. They shared tips. They problem solved. They showed persistence and perseverance. They even helped out their principal who popped up to check out the fun!! Angry Birds Star Wars on my IWB was a sight to see, and even though they were competing with each other for the coveted iTunes cards that were on offer for the top 3 scores, the cooperation and communication was awesome. This was serious fun!!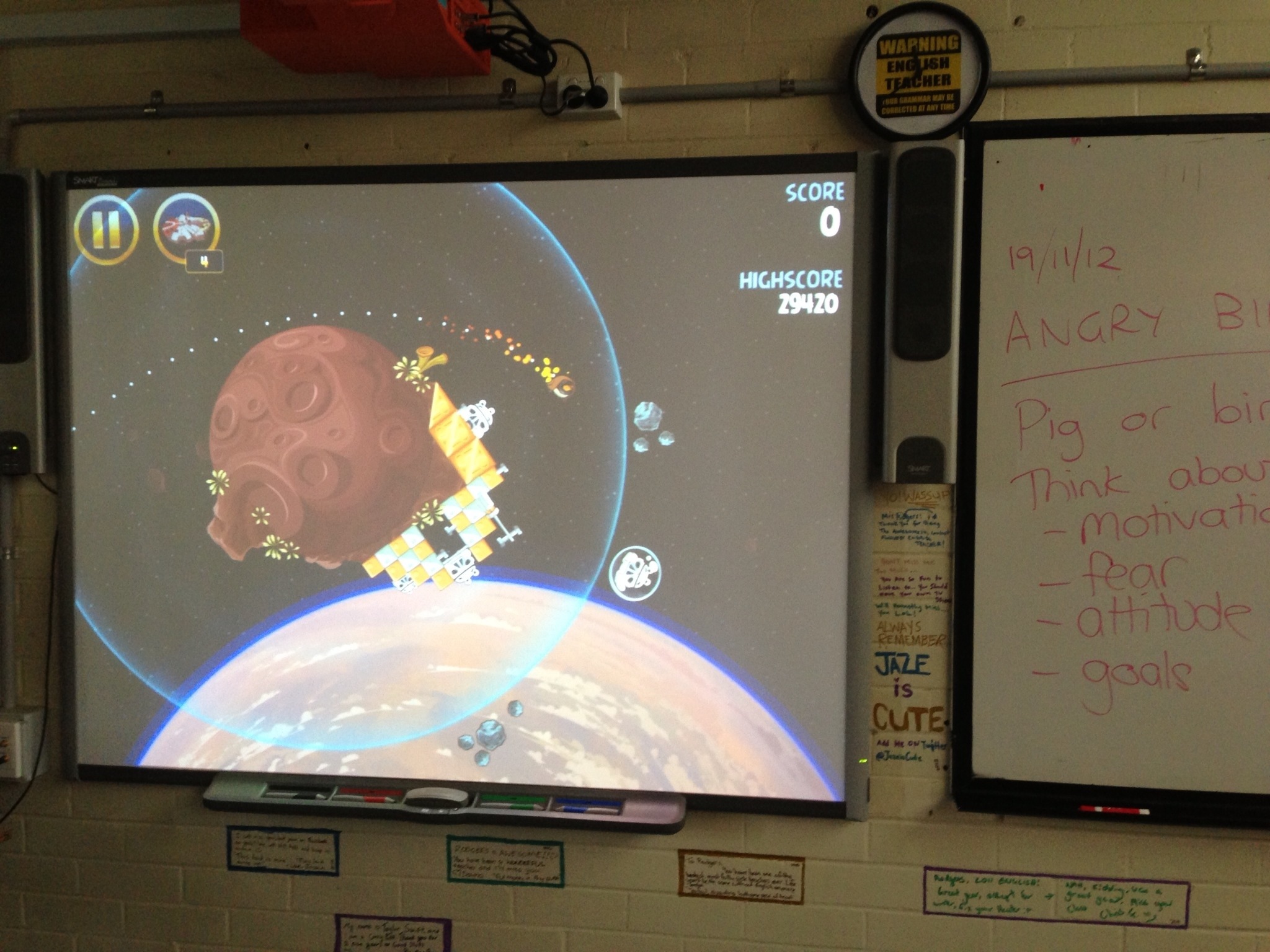 I certainly wouldn't do this every week, but it's certainly worth thinking about … Is my classroom fun? And is it fun for the right reasons? We certainly can't just make our classes open slather gaming, but some intelligent design of activities to build some real engagement isn't a bad thing!!
NOTE: If you are thinking about implementing an Angry Birds challenge in your classroom, I have a few pieces of advice.
1. Check that the class next door is not doing an assessment task.
2. Find out the chocolate of choice of the teacher in the classroom next door.
3. Make sure the iPads are fully charged – the child whose iPad dies as they are about to hit 110,000 points will never forgive you when their device dies!!
So, that's one of my episodes of serious fun for the term … I'd love to hear about what you have been doing in your class that's made you laugh!